Key Metrics of the Latest Installation program
Installation Update: December 5, 2014
Installation Version: 5.08.03
Installation File Size: 476 M
Modules Included: Basic, Melodic Contour
Identification, Openset Recognition, Adaptive Speech
in Noise, Telephone Speech, Advanced Music,
Auditory Resolution, and Functional Hearing Test.

Option 1: Online Downloading (for PC only)
Online downloading is the quickest way to access the program. Please click either button below
and download the whole package (with basic module and seven advanced modules).
Option 2: Email Request of Installation CD (for PC only)
For users who can not download the installation file due to slow internet connection
or other reasons, the installation CD of

Angel Sound
TM
will be available free of
charge upon request via Email (angelsound@tigerspeech.com)
Computer Requirements:
•
PC with Microsoft® Windows® Vista, XP, 2000, 7 & 8.
•
Macintosh using Parallels Desktop or Bootcamp with
Window OS installed.
•
Pentium® III or higher (recommended)
•
500MB free hard disk space and 256MB RAM
•
16-bit sound card
•
Display/screen resolution of 1024 x 768 or higher
.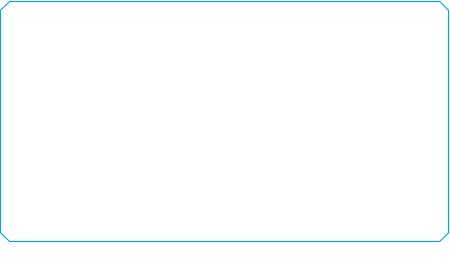 Auditory training is critical for hearing impaired
users to achieve the maximum benefit from a
cochlear implant and/or hearing aid. After 20
years' of extensive research at House Research
Institute, Emily Fu Foundation proudly bring you
Angel Sound, a self-paced, interactive
rehabilitation program that allows you to practice
and perfect your listening skills at home. Your
results can be summarized, facilitating meaningful
discussions with your audiologist and therapist.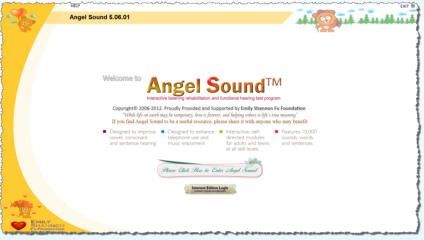 After clicking the above button, PC will download an executable ("AngelSoundSetup.exe") file into
your PC (generally in My Documents\Downloads folder if Google Chrome is used) and the file is
located in the left bottom corner.
For Window IE users, a window will pop out. Click "Run" in the first popout window. The
downloading will start (See second window). The downloading may take 30 minutes or longer
since the file is pretty large (~476M). After downloading, some PC computers may give a warning
message if the computer has virus or other security protection software. Please ignore the
warning and continue the installation process. Click the "Run" button in the third window. The
program installation will start.

Both downloading and CD version of Angel Sound is
NOT
compatible with Mac
computers or iPAD. To use Angel Sound
TM
, Parallels Desktop or Bootcamp
(with Window OS installed) is required for Mac computers. For iPad/iPhone users,
please download i-Angel Sound from Apple Store.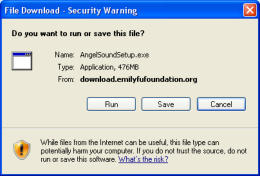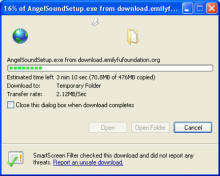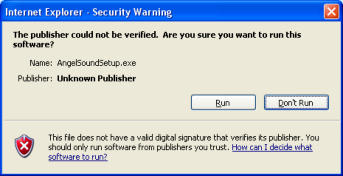 Friendly Note:
The security software in your computer MAY block the downloading process
stating the site (or file) was infected with Walware (since the downloading file is executable file).
If the downloading does not proceed, please try the following approaches if you feel comfortable:
#1: Change security and privacy settings in web browser. or
#2: Disable security software and firewall temporarily.